Storage / Shipping Container Rental & Hire - Sussex
Sussex Transport supply a range of modern, clean and secure containers to our customers across Sussex and into surrounding counties.
A great alternative to purchasing outright, container hire is the perfect option for many customers who don't require ownership.
No longer do you need to store offsite! Tools, equipment, household items, even your car could be stored in a shipping container on your current and future sites with convenient instant access. With no minimum term, and options available for short and long term rental we are able to provide the right solution to your onsite storage problem – whether commercial or domestic, container hire is available from just £10.00 per week.
We've even created a great lifting and delivery guide which aims to ensure you know all you need to know for delivery (or collection) day. 
Click here to download our container delivery guidelines
Typical customers include
Residential Hire – For storage of household items in general, when moving house, or during construction work
Construction Companies – For storage of tools and equipment on site 
Schools / Sports Clubs / Associations – For onsite storage of equipment
Installers / Refurb projects – Site to site movement of tools and equipment for projects
Business users – Overflow storage  
Our containers can be supplied in single colours for discreet storage solutions. They come equipped with a solid steel lockbox and high-security padlock. The doors are complete with 4 locking bars providing increased security and weatherproofing. 
Click here
 to request a quote using our industry-first interactive map tool allowing you to 
request a lifting quote
 and specify exact locations to within 3m anywhere in the UK.
Why hire from Sussex Transport
Reliable deliveries and positioning by our experienced operators on our own fleet of vehicles
Modern, Clean, Secure, anti-vandal and weatherproof containers 
Easy open doors
Hardwood flooring
Low / Zero Maintenance requirements
Competitive prices
No minimum or maximum terms of hire
Buy out option if you decide to turn rental into ownership
---
Standard containers are available to hire in 10, 20 and 40 foot. Full sizes and dimensions as below.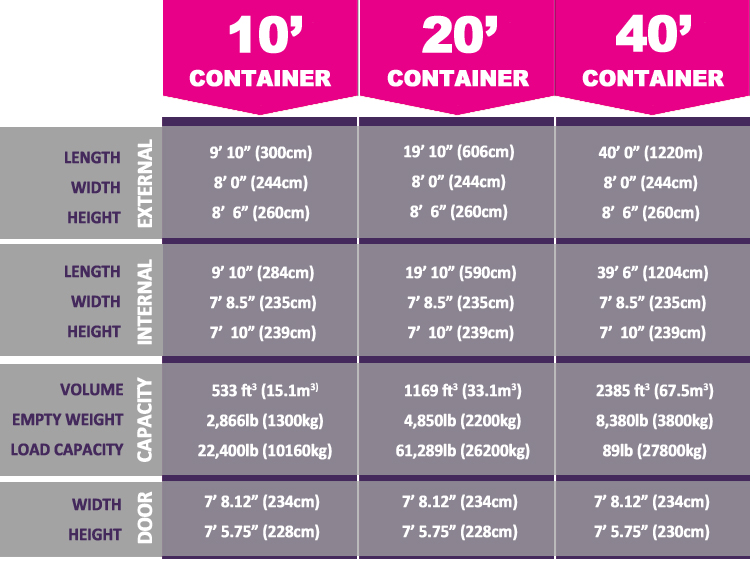 Whether you need a container for a week, a year or indefinitely we are waiting for your call. Once you are finished just let us know and we will organise a hassle-free collection.
If you would like to chat to us about container hire, sales, or conversions then
call us
today on
0800 915 23 23
and speak to our expert team or complete our Container Contact form
---
Worried about getting large heavy items like Motorbikes / Mowers into your container? 

Don't forget to ask about our container loading ramps for self-storage and light commercial use.  Our ramps are easy to position and store and allow you to safely load and unload with ease.  Robust, quality steel, easy to handle and the simplest solution to the problem.  We offer 2 styles and sizes of ramp, with the larger version having the following specification.
- All aluminium profile 
- 2000mm [total length] [+100mm flat-top]
- 1000mm [total width of ramp] 950mm inside width
- 750kg [spread load]
- c/w 4 x carry handles
- Weight 35kg
Don't forget our buy out option
At any point in the term of hire you may decide that you would like to own your hire container. Simply call us for a real time price to turn your hire into a purchase. You may be surprised at the list price saving
If you would like to chat to us about container hire, sales, or conversions then 
call us
 today on 
0800 915 23 23
 and speak to our expert team or complete our Container Contact form