Shipping Containers - Onsite Storage Solutions
Shipping Containers make the perfect onsite storage solution when you need that extra space
Strong, Secure and Cost effective, containers of varying size can be delivered to your site or house in a matter of days
Sussex Transport offers a range of shipping containers for storage on site. With new shipping containers (one trip) and wind and watertight containers for sales and hire across the UK we are sure to have what you are looking for. 
From our bases in West Sussex we operate a hire fleet across the whole South East and sell containers right across the UK.
One of the great benefits of shipping/storage containers is that they are considered as temporary structures. As such they do not normally need planning permission*. It is this that makes them a firm favourite when that extra space is needed. Containers can be used in a variety of ways;
Storage for tools during a commercial build
Storage of homeowner goods during an extension or project
Conversion into temporary homes
Workshops
Home Offices
We've even seen them used as swimming pool shells
Shelters & more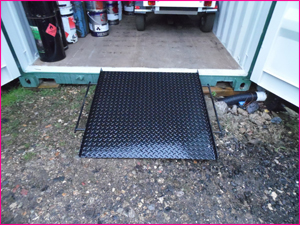 Worried about getting large heavy items like Motorbikes / Mowers into your container? 
Don't forget to ask about our container loading ramps for self-storage and light commercial use.  Our ramps are easy to position and store and allow you to safely load and unload with ease.  Robust, quality steel, easy to handle and the simplest solution to the problem.
If you would like to chat to us about container hire, sales, or conversions then call us today on 0800 915 23 23 and speak to our expert team or complete our Container Contact form
*If you are in doubt it may be prudent to check with your local authority.