Shipping Containers - Onsite Storage Solutions
Buy Or Hire Your Shipping Storage Containers From Sussex Transport
Shipping Containers make the perfect onsite storage solution when you need that extra space
Robust, secure and cost-effective containers of varying sizes can be delivered to your site or house in a matter of days.
Sussex Transport offers a range of shipping containers for storage onsite. With new shipping containers (one trip) and wind and watertight containers for sale and hire across the UK, we are sure to have what you are looking for.
From our bases in West Sussex, we operate a hire fleet across Southeast England and sell containers across the UK. Even if you want to relocate a shipping container, Sussex Transport can help.
Tap on the helpful links below to find out more.
Benefits Of Shipping Containers As Storage Solutions
There are many benefits to using shipping containers as storage solutions, mainly because of their versatility.
Containers can be used in a variety of ways, including:
Storage for tools during a commercial build
Storage of homeowner goods during an extension or project
Conversion into temporary homes
Workshops
Home Offices
We've even seen them used as swimming pool shells
Shelters & more 
And because shipping containers are considered temporary structures, they do not usually need planning permission (we recommend checking with your local authority before ordering).
This helps make them a firm favourite when that extra space is needed.
Find Out More About Using Shipping Containers As Storage Solutions
If you have any questions about hiring, buying or moving a shipping container, we would love to hear from you.
We have listed a few FAQs below, but if there's anything else you'd like to know, please don't hesitate to get in touch.
If you want to chat about container hire, sales, or conversions, call us today on 0800 915 23 23 and speak to our expert team.

Alternatively, you can complete our shipping container quote form.
---
Frequently Asked Questions About Using Shipping Containers As Storage Solutions
How big are your shipping containers?
At Sussex Transport, we have 10', 20' or 40' shipping containers available to hire or purchase. In addition to considering the available space on site, it is also worth considering how much storage you will require from the containers. We have put together a simple table that illustrates the shipping containers' dimensions and how much they could store.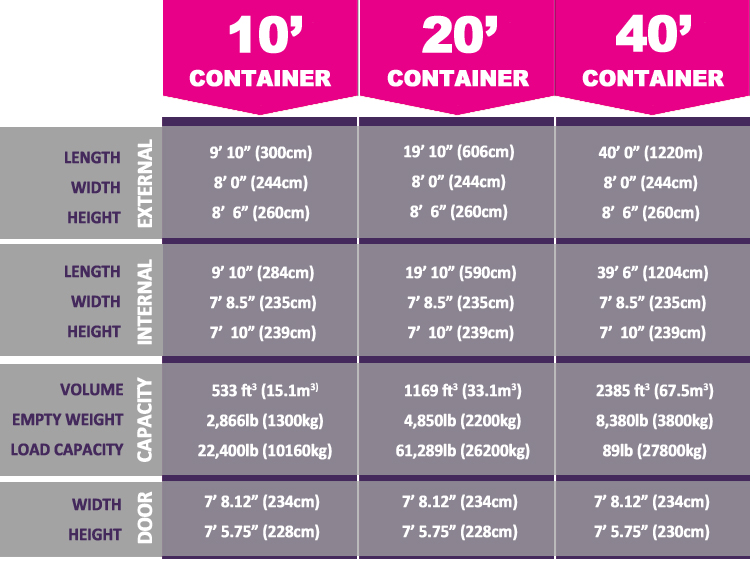 Where will you deliver shipping containers for storage?
If you are looking to hire a shipping container for storage, our fleet can deliver the units anywhere across Southeast England.
If you want to buy or relocate a shipping container, our expert team can travel to any location across the UK.
I'm worried about access to my site – are there any restrictions when delivering shipping containers?
When booking a shipping container delivery, it's vital to equip our transport and lifting planners - as well as the driver - with as much information about the site as possible. There are a few things that will need to be considered. For example, if the location is on a slope, then we will need to ensure we are equipped with the required equipment needed to level the container. Also, things like both access to the site and onsite conditions need to be considered and communicated, including: 
on/off-road location
ground construction
cellars
sewers 
power lines, etc.
Access routes, roads and tracks to the site will need to allow for a large lorry, and the delivery zones need to be free from overhead electrical cables.
To help with these considerations, we've created a great lifting and delivery guide, which aims to ensure you know all you need to know.
If in doubt, contact our team to discuss any concerns or queries.
I want to store heavy items in the shipping container, but will I be able to get them in physically?
If you are worried about getting large, heavy items like motorbikes or mowers into your container, ask about our container loading ramps for self-storage and light commercial use. Our ramps are easy to position and store and allow you to load and unload easily. Robust, quality steel, easy to handle and the simplest solution to the problem. We offer two styles and sizes of ramp, with the larger version having the following specification.
- All aluminium profile 
- 2000mm [total length] [+100mm flat-top]
- 1000mm [total width of ramp] 950mm inside width
- 750kg [spread load]
- c/w 4 x carry handles
- Weight 35kg